[vc_row][vc_column][vc_column_text]
Frequently Asked Questions
[/vc_column_text][vc_tta_accordion active_section="1″][vc_tta_section title="I'm not a business/design/product/sales/finance/operations person – how could I possibly start a business?" tab_id="1522060871667-51f5b3bb-6bad"][vc_column_text]Anyone can come up with an idea and test it – it's not rocket science. Come up with an idea, look at the market, create the prototype, brand it, market it and sell it.[/vc_column_text][/vc_tta_section][vc_tta_section title="I'm an entrepreneur and this is a far too simple view of entrepreneurship!!" tab_id="1522060871668-247195f2-0bbf"][vc_column_text]There's no denying it, it is incredibly tough to start and run a business. After we started our first company I think I even said "I wouldn't wish entrepreneurship on my worst enemy".
It is also the best experience you'll ever have – but it's not for everyone. 6daybusiness.com is just testing your idea, no more.
The most straightforward part of the process is testing the idea – then the hard work starts.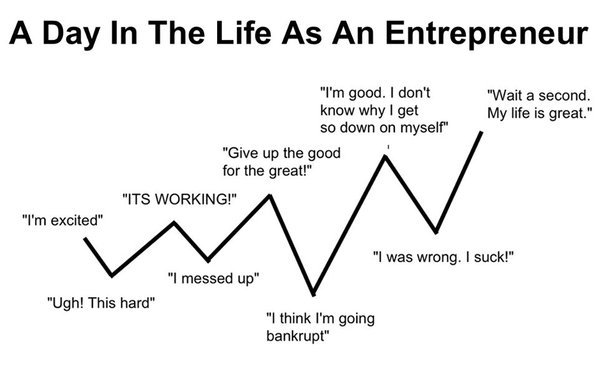 [/vc_column_text][/vc_tta_section][vc_tta_section title="Have you followed this process?" tab_id="1522060992265-401da13b-8d9f"][vc_column_text]Yes!
The original concept for this book was done in far less than six days. We pitched the idea on day one, created the logo later that afternoon and mapped out the various days the next morning. We are fortunate to be surrounded by entrepreneurs so we quickly got feedback from the market and then decided to go from there.
There will be more examples of this available as we keep working.[/vc_column_text][/vc_tta_section][vc_tta_section title="Will I be a millionaire after this process?" tab_id="1522061595768-3a80f56d-396a"][vc_column_text]Not after six days.
The purpose of the book is not for you to create your empire in six days, but to test an idea, identify ideas with potential and then either take the good ideas forward, tweak the OK ones, or bury the bad ones.[/vc_column_text][/vc_tta_section][vc_tta_section title="How did you come up with the idea?" tab_id="1522061732835-92117a97-2c82″][vc_column_text]Three things led to the writing of the Six Day Business.
First
We have started a number of businesses in the past, some that have worked, others that failed spectacularly. Looking back at a business we started in Romania we realised that if we had market tested the products e.g. speak to one person, about the business, we would have saved ourselves 9 months, lots of money, and stress. When we finally pulled the plug on the business it was
Second
We have a lot of ideas that we don't do anything with becuase of time, energy and finances. And we have no idea whether they are good ideas or not. So we created a plan, as much for ourselves to figure out whether our ideas should be pursued in more detail, or dropped.
Third
As humans we have always been worried to put our ideas out to the world, instead keeping them inside and never market testing them. With the Six Day Business process you bring customer feedback right to the beginning of the process. It is one of the most difficult parts of creating a business but it is essential. It will get you used to speaking with customers, bearing your proverbial soul to the world. It also forces us to get a product to market instead of kicking around the idea for longer than it needs to be![/vc_column_text][/vc_tta_section][vc_tta_section title="Is there another product like this on the market?" tab_id="1522061734928-a7ff8264-24d8″][vc_column_text]There are 1,000s of books out there about how to start a business, they're written by experts in the field, people who have grown, sold and built businesses. The authors of this book have run small businesses in the past and have even had a recent spectacular failure on an ill-advised business venture.
And that is where our story started. After we struggled getting that business off the ground we took a step back and decided to write down all the things we should have done before even considering embarking on that venture.
This book contains the steps that we should have taken. You could see the Six Day Business as the prequel to many books on the market right now. In these books you can learn and learn and learn, but the doing seems to come secondary. I have three bestsellers in front of me right now and they are 284, 326 and 223 pages respectively. That's a lot of pages. They are full of great content, but what is actioned afterwards, is minimal.
This is a book about action.[/vc_column_text][/vc_tta_section][vc_tta_section title="I don't think my idea is market ready." tab_id="1522061736525-726627bf-7d98″][vc_column_text]Just try the process and see what happens. People will get a general idea of what you are trying to sell and then you can refine it from there. As it says on Facebook's wall "Done is better than perfect". Even when we were writing this page I thought "Maybe I should put these in accordions so they fold out". At that point I caught myself and thought "no – the information is what is important – move on!"[/vc_column_text][/vc_tta_section][vc_tta_section title="Why should I do this?" tab_id="1522061996324-f4fed120-adb7″][vc_column_text]The better question is "why wouldn't you". I'm sure you can spare six days worth of time to test this idea and get it out to the world!
And besides – we are here to take the journey with you![/vc_column_text][/vc_tta_section][/vc_tta_accordion][/vc_column][/vc_row]